Pleasure – Optic Nerve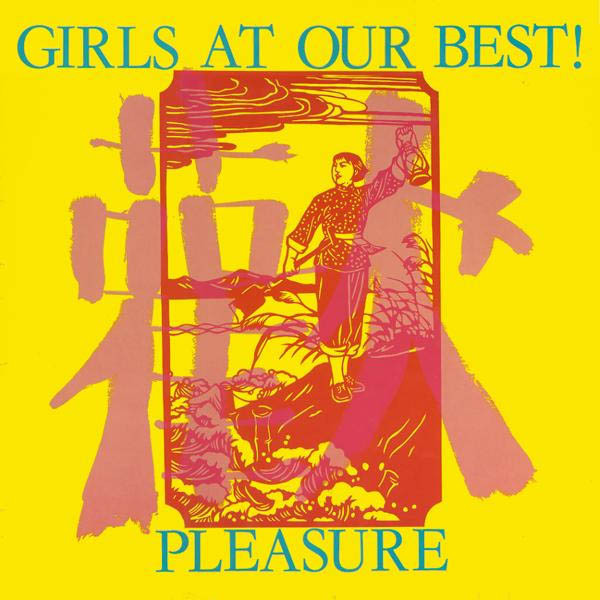 Optic Nerve Recordings ‎OPT4.011
| | |
| --- | --- |
| A1 | Pleasure |
| A2 | Too Big For Your Boots |
| A3 | I'm Beautiful Now |
| A4 | Waterbed Babies |
| A5 | Fun-City Teenagers |
| A6 | £600,000 |
| B1 | Heaven |
| B2 | China Blue |
| B3 | Fast Boyfriends |
| B4 | She Flipped |
| B5 | Goodbye To That Jazz |
| C1 | Getting Nowhere Fast |
| C2 | Warm Girls |
| C3 | Politics |
| C4 | It's Fashion |
| D1 | Go For Gold |
| D2 | I'm Beautiful Now |
| D3 | Fast Boyfriends |
| D4 | This Train |
Released: November 2014
Bass, Backing Vocals – Gerard Swift
Clarinet – Alan Wakeman
Design – Artistique Et Sentimental
Drums – Chris Oldroyd (tracks: C1, C2), Paul Simon (tracks: C3, C4), Rod Johnson (tracks: A2, A5, B1, B4, B5)
Drums, Percussion – D. Carl Harper
Engineer – Flood (tracks: A1-B5, D1-D4)
Guitar, Backing Vocals – James Alan
Lead Vocals – Judy Evans
Photography [Live Photographs] – Mick Toal
Piano, Harpsichord – Dave Fishel
Producer – Girls At Our Best! (tracks: C1-C4), Laurence Diana (tracks: A1-B5, D1-D4)
Remastered By – Russ Hepworth Sawyer
Synthesizer – Thomas Dolby
Optic Nerve Catalogue Listing (First Pressing Sold Out)
Double Album with Gatefold Sleeve
Transparent yellow vinyl with pink, red and blue splatter
Includes printed inner sleeves, containing lyrics and photos
and The Pleasure Bag containing 4 Postcards; 2 Stickers; A stencil; 3 Posters; 8×10 Press photo; and a Press Flyer
Optic Nerve are re-pressing their vinyl release with the re-release planned for 9th April 2021.
Double album that includes
45rpm bonus disc with the singles and B sides
Gloss laminated gatefold sleeve
Half & Half Colour Vinyl Disc 1: Yellow/Magenta Disc 2: Turquoise/Magenta
Printed inner sleeves, containing lyrics, photos
Interview by The Mouth Magazine
and the Pleasure Bag containing 4 postcards, 2 stickers, A stencil, Repro Tour Poster, Repro promo posters for "Go For Gold" and "Politics/ Its Fashion" singles. Press photo and Press Flyer

The re-issue has sold out on Optic Nerve but keeping the link as they have links for other suppliers who still have copies for sale.