The Butterflies
By 1978 Jez was disillusioned with the Leeds punk scene and called a halt to SOS. He told New Pose fanzine: "All the other groups look the same, sound the same. Johnny Rotten said he wanted 300 bands all going in different directions but now there's 300 all the same – it's shit."
So the next big idea was to get together a band of non-musicians and make some atonal noise in the name of art.
Recruiting Jo Gaffney and another non-musician Patrick Ford from his course at Jacob Kramer College of Art and retaining Chris Oldroyd from SOS, The Butterflies emerged. Jez tried to teach Patrick how to play bass and they started rehearsing in Jez's bedroom.
In an interview for Leeds Arts University Alumni Jez said: "I was still playing with SOS! when I started the course. I was very into pop art but, really, I went to art college to find creative people. Judy and I were quite different. I was a punk – and she didn't really seem bothered about music… But she was really interesting, and she had attitude."
The Butterflies played their first gig supporting The Accelerators at the Marquis de Granby in Leeds after Jez, Patrick and Jo had finished their one year foundation course.
More gigs followed.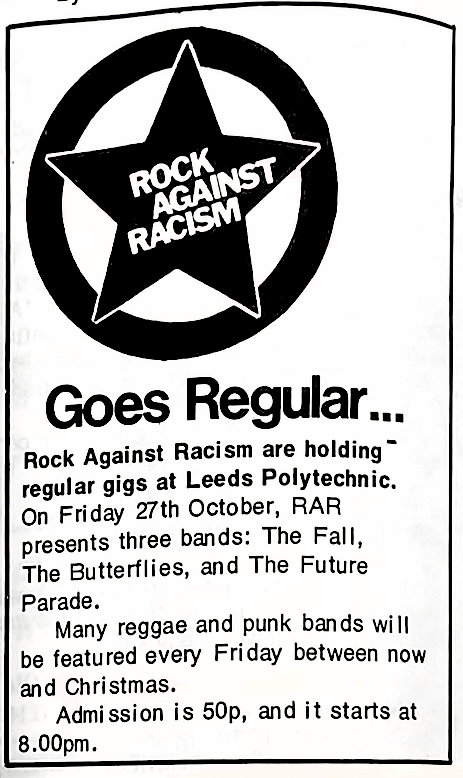 19/09/1978 Doncaster Outlook Club, supporting Ultravox
03/10/1978 F-Club @ Brannigans, supporting Wire
27/10/1978 Leeds Poly, supporting The Fall (a Rock Against Racism gig)
02/11/1978 Liverpool Eric's, supporting Ludus
11/12/1978 F-Club @ Brannigans, supporting Generation X
14/12/1978 F-Club @ Brannigans, headlining
10/02/1979 Liverpool Eric's, supporting The Gang of Four
20/02/1979 F-Club @ Brannigans, The Butterflies + The Xpelaires + The Faction + Abrasive Wheels
20/12/1979 F-Club @ Brannigans, XMAS Party with 8 groups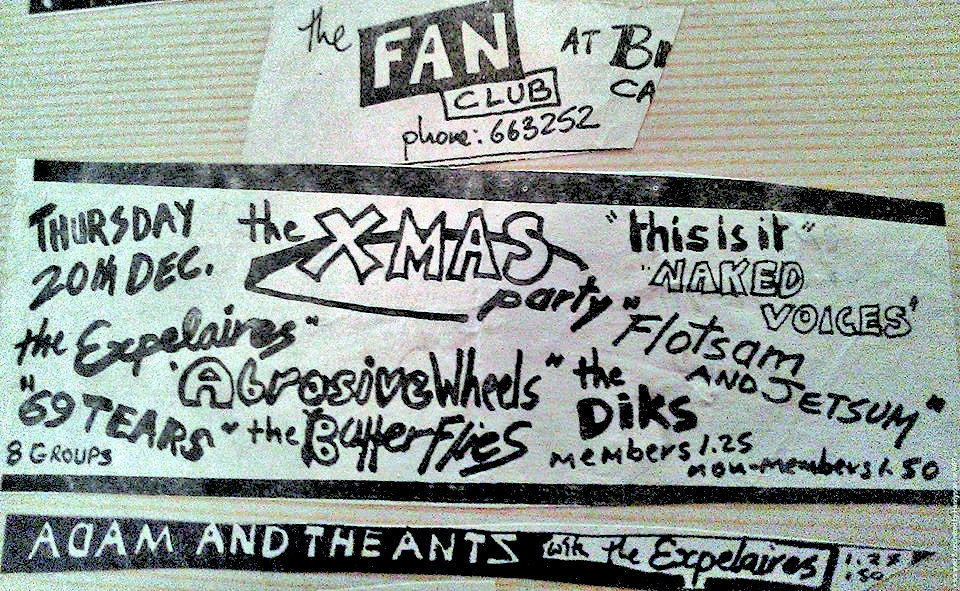 Other gigs included: Leeds Poly supporting The Jerks, the Nashville in London supporting The Mekons, Nottingham Sandpiper Club, Vivas Wine Bar in Leeds and gigs in Harrogate and Hull.
In 1979 Jez and Jo wanted to take the band in a different direction and asked old SOS bandmate Gerard Swift to take over on bass. Even so by the end of the year they were on the verge of packing it in when they saw an advert for half price recording sessions and thought it would be a good idea to record some of The Butterflies songs. There then came the problem of releasing it as a single as by this time Chris Oldroyd had left and joined Music For Pleasure.
Jez later told Mouth Magazine: "Our band had split up so it was just Judy and I. We thought it'd be a waste not to leave behind some sort of legacy. We went down to London for the day and took it to a few small record companies. Beggars Banquet was one. Judy refused to leave the tape with anyone – they had to listen to it while we were there, or lump it. The arrogance of youth! Rough Trade got back to us and we met Geoff Travis and really liked him…"
Suddenly in need of a band name they turned to an old Butterflies song title for inspiration.
Patrick Ford told us: "One of the songs we performed as The Butterflies was called 'Girls at Our Best' and I recognised parts of other songs that had been reworked. The style had changed completely since I was in the band."
So that solved the band name, but who were Girls At Our Best? Jez and Jo thought that their real names wouldn't look good on a record sleeve and changed them to the more pop star like James Alan and Judy Evans. That was the end of The Butterflies, but legends were born.
And we're not going to spoil this piece by ending it with a lazy Butterflies metamorphising allusion. Damn…